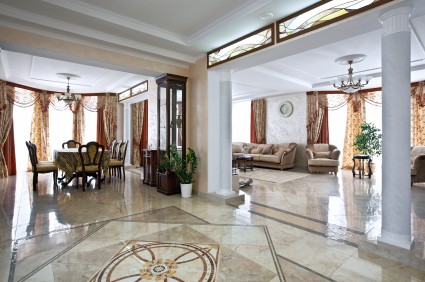 The stone is expensive but extremely impressive floor finishing material.
Tiles and slabs made of marble, travertine and granite can meet more often , not only in the ceremonial rooms of public venues, but also in homes and private homes. The most popular put on a stone floor is marble . Usually marble tiles are placed in bathrooms, living rooms and entrance halls. .
If the marble lying on the floor in a high-traffic area – especially around the front door – where there is always a lot of particles and grains of sand, the smooth and shiny surface can become dull and pay a fine mesh Figure To avoid this, you should thoroughly and carefully sweep these.
Check price and availability in our catalog >>
Marbles should not be used in kitchens since they are not resistant to acids found in foods. Also absorb fats . Under their influence, marbles lose their shine and they turn (you can see this especially in light grades of stone).
Travertine tiles, a nod to the classics. The floor can be used both resin and polished stone, filling and ground and having the same fill only polished. Properties like travertine marble. So either use that care and floors made of this material is similar.
For variety and to make the surface of individual character can use marble and travertine mosaic tiles. These are ready – made plates with small, multicolored cubes arranged in geometric patterns.
Granite in turn is one of the rocks of high strength, hardness, resistance to abrasion and impact acids and fats. So perfectly meets the need in the places where the marble floor is in danger of losing luster. No worries you can use it to finish the floors in hallways and entrance halls. As well works well in kitchens and bathrooms.
Similarly, high strength as granite tiles have a quartzite.
Tiles made of natural and artificial stone are produced in sizes 30×30, 33×33, 45×45, 60×60 cm or similar. On special order tiles are made in custom sizes.